NOTICE OF FUNDING AVAILABILITY (NOFA)
Released: November 29, 2021
Grant Identification No.: DMPED – FY22 GSRET
Request for Application (RFA) Release Date: Friday, December 10, 2021
Image: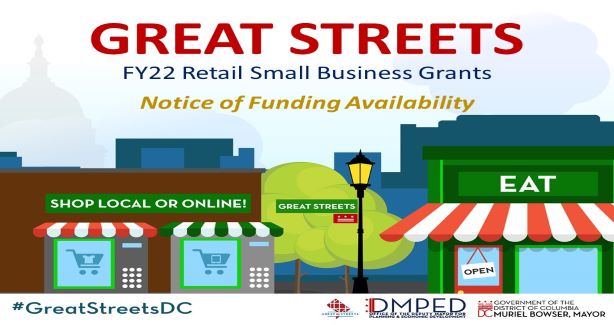 Featured Content Items:
FY22 Great Streets Retail Small Business Grant
NOTICE OF FUNDING AVAILABILITY
November 29, 2021
Grant Identification No.: DMPED – FY22 GSRET
Request for Application (RFA) Release Date: Friday, December 10, 2021
The Great Streets Retail Small Business Grant is the hallmark grant opportunity for the Great Streets program. The grant has helped hundreds of small businesses renovate their storefront to attract new customers and drive profitability.
​The purpose of the grant is to support existing small businesses, attract new businesses, and transform designated commercial corridors into thriving and inviting neighborhood centers.
​Who's eligible?
Eligible applicants include the following:
must be located in a Great Streets Corridor
for-profit entities, art- and humanities-based, & 501(c)(3) non-profit organizations
retail and service-oriented business
business owners sharing space
business owners who previously were awarded Great Streets funding for their original location but are opening a second or third location.
businesses that hold a tavern license issued by Alcohol Beverage Regulation Administration (ABRA) with the ability to prove via tax returns that primary revenue is not from alcohol sales
Who's ineligible?
Ineligible applicants:
Adult entertainment
Auto body repair
Bank
Bar or Nightclub, as defined by an ABRA license
Construction/general contracting/architecture/design-build
E-commerce business
Financial services
Home-based
Hotel
Liquor store
Phone store
Professional services
Real estate development/property management/realtor
Seasonal (open only part of the year)
Previously awarded businesses that are expanding existing operations and/or relocating to another location are not eligible.
Note: Businesses that have received a total of $150,000 or more of funding from the Great Streets or H Street Grants Programs are not eligible.
​Grant monies may be used for:
hard costs – up to 100% of the grant
soft costs – up to 35% of the grant​
All projects must be located in a Great Streets Corridor and in operation during the period of performance (see FAQ#6).
Ineligible uses of funds
The following are NOT eligible uses of funds:
Debts
Expenses associated with preparing this application
Inventory
Legal fees
Marketing
Payroll
Rent
All expenses not listed as eligible uses of funds
​Timeline
NOFA released
RFA released
Applications Due
Initial Screening
Independent Review Panel
Final Review
NOFA - FY22 Great Streets Retail Small Business Grant - 11-29-2021 (pdf) RFA (pdf) APPLICATION LINK
Information Session
Sign up for a live info session by checking our calendar of events.
Re-visit presentation slides.
---
Need assistance with your application?
Find a CBO that can help.
FAQs
1. How do I apply?
Please submit your complete application (including attachments) through the Blackbaud portal located on dmped.dc.gov. All applications must be submitted via this electronic application system.
​2. What is the award amount?
DMPED expects to award multiple grants under this program. Grant award sizes will vary by the size of each applicant's proposed project. The total allocation for the grant program is $2,500,000. The maximum request per application is $50,000.
​3. Are the grant funds taxable?
Yes, grant funds are considered taxable income for any applicant who pays income taxes.
​4. What is the NOFA and RFA?
NOFA stands for Notice of Funding Availability. It is the first announcement of the grant and notifies the public of the available funding for the current fiscal year.
RFA stands for Request for Applications and applications open the day it is released. The RFA is what applicants will find most helpful and use to complete their application successfully. The RFA contains complete information about the details of the grant and specifics of what must be included in your application.
​5. When will grantees be announced?
The anticipated time for processing applications is 30 to 45 days after the date applications close. DMPED anticipates notification of awards on or before October 30, 2020. DMPED will send a Response Letter to eligible applicants, informing them of their status in the review process and requesting supplemental documentation that is to be due within seven business days of the Response Letter.
​6. What is the award period of performance?
The period of performance of the grant will be from October 1, 2020 (or the date of grant execution if that date is later than October 1st) and shall remain in effect through August 31, 2021. The District's period of agreement and financial obligation for the grant will be from the date of execution through September 30, 2021.
​
Point of Contact - for grant applications
DMPED Grants Team
Phone: (202) 727-6365
Email: [email protected]