Wednesday, August 17, 2016
Salumeria 2703 comes from the owners of Menomale.
Washingtonian By Jessica Sidman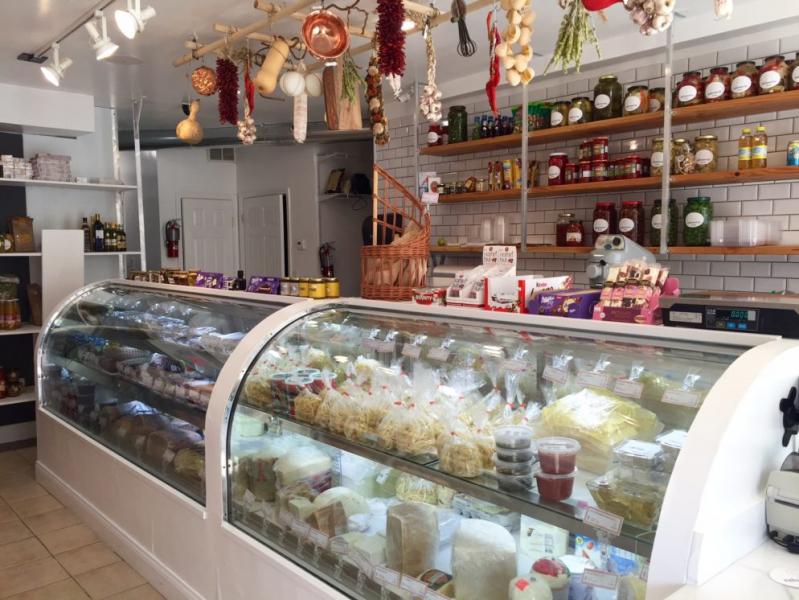 In Italy, pretty much every neighborhood has at least one little market that sells cold cuts, cheeses, and other prepared foods.
"It's very typical to just swing by, pick up whatever you need, and go home. We kind of missed having that opportunity here, because you always have to go to the big store and spend half hour minimum shopping," says Maria Rusciano, who owns Menomale with her husband and Naples native Ettore Rusciano.
The couple tried to replicate the Italian experience as closely as possible at their recently-opened market, Salumeria 2703, located a few doors down from their Neapolitan pizza spot in Brookland. The one exception: the DC health department won't let them hang cured meats from the ceiling, so the ones you see in the photo aren't real.
The shop sells pantry goods like olive oil, vinegar, and jams as well as a wide range of mostly Italian cured meats and cheeses, including house-made fior di latte mozzarella. One of the highlights is the fresh pasta produced on a counter in the front window for passersby to watch. Ettore makes 15 pasta shapes, which rotate daily, as well as marinara sauce and pesto. He also prepares a few varieties of lasagna, which customers take home to bake. "You put it in the oven for 20 minutes, 375 [degrees], and your entire house is going to smell like lasagna," Ettore says.
Eventually, the market will add a freezer to stock stuffed pastas including ravioli, agnolotti, and casoncelli.
Even with very limited kitchen space, Salumeria 2307 offers roasted and marinated vegetables like oyster mushrooms, zucchini, and eggplant. Ettore also bakes his own bread using dough fermented for 36 hours then baked in Menomale's wood-fired pizza oven. Stop by when the market opens at 4:30 p.m., and it will still be warm. The pizzaiolo is working on a different, softer baguette recipe for sandwiches. Those will be available in September when the market expands its weekday hours to include lunch.
Salumeria 2703. 2703 12th St. NE; 202-699-2397. Open everyday except Tuesdays from 4:30 to 9 p.m. on weekdays, 12 to 9 p.m. on Saturdays, and 12 to 8:30 p.m. on Sundays.
https://www.washingtonian.com/2016/08/17/the-cutest-little-italian-market-with-fresh-pastas-just-opened-in-brookland/