Washington Post by Sarah L. Kaufman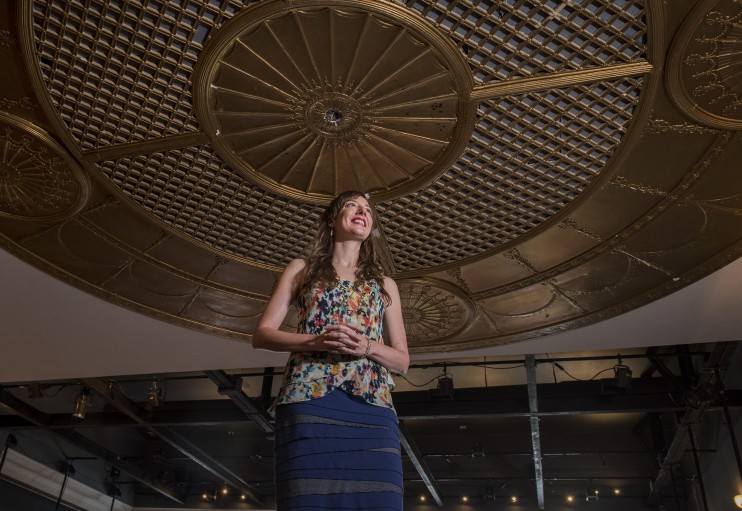 Dance Loft on 14 is the former Park movie theater. It now offers four state-of-the-art dance studios, for adult and children's classes, rehearsal, yoga and K-pop. (Bill O'Leary/The Washington Post)
The listing described a former taekwondo studio on an empty floor above a furniture store. Diana Movius was intrigued. As a choreographer weary of the constant hunt for rehearsal space, she had an eye out for bargain real estate. She wanted to build a dance laboratory, where art could be made on artists' terms.
Atop the steep, shabby staircase of the squat building on upper 14th Street NW, Movius found her dream. The space was hot and musty. Long-forgotten mattresses lay in piles. But mostly, the floor was empty. It was so large and unobstructed that Movius could see all the way to the building's rear wall.
"It was probably the size of the Metropolitan Opera House," says Movius, 35. Tall and composed, she has a thoughtful, focused way of speaking. "I could immediately imagine people dancing and leaping, even though it smelled and it was dusty and it was probably 90 degrees. It was clear it was a beautiful space for artists. I was just elated."
She was standing on the balcony level of what had once been the Park movie theater, built in 1924. It lost business to the more opulent Tivoli Theatre a mile away, and shut down after a few years. In time the building housed a Cadillac dealership, a phone company warehouse, a secondhand clothing shop.
When Movius arrived in 2012, the top floor had been vacant for about 15 years, but graceful architectural details of the 1920s were still striking: swirling plaster ornamentation on the walls, an enormous gold medallion on the ceiling. Classically draped nymphs that recall turn­of-the-century dance pioneer Isadora Duncan adorn the stairway walls. Within a year, Movius had negotiated a lease.
This is how Dance Loft on 14 came to be, just above Value Furniture and Mattress at 4618 14th St. NW. It's the city's newest suite of dance studios, for classes, rehearsals, yoga, K-pop and, of course, the bouncy desires of 4-year-olds. (They and their tuition-paying parents are the lifeblood of most any dance space.) Housed on a quiet block between a hair salon and a snack bar, Dance Loft has become a workshop for hopes and dreams. Talk to those who've rented one of the four studios that Movius carved out of the emptiness and you can practically hear them purr.
"This space is just this gift that fell out of the sky," says Nancy Havlik, a choreographer who has been making dances in the area for about 30 years. Her voice grows soft as she describes Dance Loft. Less than two years ago, she was the first artist in the door, when it was still under construction and only one studio was finished, and Havlik was desperate to start working on a new dance.
"It's so clean," she says, "and so pure."
Choreographers' needs are simple. No. 1: dancers, and they're not scarce. Nos. 2 and 3 are: a clean floor (especially for modern dancers, who roll around on it) and time to spend on it that doesn't cost too much. So dance folks get excited about empty space, because without it they can't work.
But emptiness can end up being the biggest cost in a small troupe's budget. "We were spending all of our funds on rehearsal rental fees," Movius says. And there's the hassle of finding available space in the first place. "It's like trying to get an appointment at a doctor's office in an emergency," she says. "You're spending hours on the phone, wasting all your time."
Typically, small companies rehearse in the studios of a dance school, after hours. But with their hip-hop and Zumba classes going strong into the evening, many schools don't empty out until 10 p.m. or later. Choreographers renting space at that point are faced with tired dancers even before rehearsals start.
After talking to frustrated dancers around the region, Movius says, "I felt an undeniable drive to find this facility. It just seemed like the right thing to do."
"D.C. has a dearth of art spaces and music spaces," says Tim Hampton, a loan officer with the Washington Area Community Investment Fund. WACIF, as the fund is known, gave Movius a $100,000 loan. In his time at WACIF, Hampton says, "I don't think we've funded an artistic endeavor like this, to renovate a space to become an artistic space. Dance Loft is by far the most ambitious of these projects."
Movius's plan to turn 8,000 square feet into an arts organization seemed too ambitious for some of his colleagues. "People were saying it can't be done, they've under-budgeted," he says.
Movius had skin in the game, having sunk more than $100,000 of her own money into the project. But just as important, Hampton says, was her ability to make the human connections that kept Dance Loft on track.
"It was Diana's focus on having really positive, strong relationships with lots of people involved, the other dance companies, the people doing construction, her landlord, us — she really took the time to build those relationships," he says. "And she's not an MBA who does this for a living, but a dancer who understood the need from a customer's perspective."
Movius studied with former New York City Ballet star Patricia McBride at what is now the Charlotte Ballet Academy, and she directs a part-time contemporary ballet company called Moveius, in a play on her name. But to develop Dance Loft she also drew on her career as an environmental policy analyst, working at the Center for Clean Air Policy. She landed there after receiving a master's degree in environmental anthropology from Stanford and doing fieldwork in the Amazon.
"My boss was a master fundraiser, and I learned a lot about grant writing and how to put together proposals that come from an original idea," she says.
Managing budgets and leading meetings was good preparation for getting funders and the upper 14th Street community on her side. (Movius still works in the environmental field but as an independent consultant.) Still, Dance Loft required a leap of faith. Movius started from scratch, with no enrolled students to pony up tuition, no track record in managing property and generating revenue.
She raised $12,000 largely from the dance community through crowdfunding. She received an $85,000 Great Streets grant from the office of the deputy mayor for planning and economic development — although first she had to advocate for upper 14th Street's eligibility. Now, she's completing the 501(c)(3) paperwork to convert Dance Loft into a nonprofit.
Movius "is one of the rare people who takes private-sector smarts and turns them into public-sector opportunity," says Paul Emerson, who oversaw the Loft's construction and served as its initial executive director. He also runs Company E, a local troupe with offices at Dance Loft. Dance Metro DC, the service organization, also has its headquarters there.
But leasing space and hanging mirrors and barres doesn't guarantee that dancers will come. Everyone interviewed for this article agreed: The Dance Loft space is special. (It has even been rented for a wedding.)
"I love the architectural detail from the '20s and that it's coming back to life. It's very romantic," says Cynthia Word, the founder and director of Word Dance Theater in Bethesda, Md., which creates Isadora Duncan-based productions. "The space affects your creativity. I think a really ugly space is like a lid on your spirit. And when you're trying to create something that's noble, not only on a visual level but that also has a beauty of spirit, it's nice to be surrounded by pleasantness."
Emerson says: "We all have a sense of a space that feels right to us. When the space is a classic movie theater, it's already an artistic space. And our process was just to honor that. You could feel the history of it. You could feel it was a place where you'd be at home."
The construction crew found the original paint schemes of the movie theater buried under layers of plaster. They're re-created on the walls: sea foam green, deep gray, two shades of pink. A barrel-vaulted ceiling that had been covered up has been restored. It arcs like a high, pale sky above the studio, dubbed "the fishbowl" because it has glass walls, repurposed from another part of the floor. One studio features what Movius affectionately calls "the art wall," with its exposed brick and layers of paint colors that have been rather attractively deteriorating for 90 years.
But it's not all vintage. Since Dance Loft is run by an environmentalist, solar panels on the roof generate some of its power. And if the funding comes in, Movius plans to outfit the largest, ballroom-size studio with risers and lighting so it can be quickly converted into a theater, for what she hopes will be a monthly performance series.
"We really want to elevate the level of dance in D.C.," she says, "and bring artists the tools for choreography."
Dance Loft will hold an open house event Sept. 17 from 2 to 5 p.m., with classes and performances. For more information, visitwww.danceloft14.org.