Washingtonian food critics break down where to find the best breakfast pizzas, pancakes, sandwiches, and more, in the area.
Washingtonian by Todd Kliman, Ann Limpert and Anna Spiegel
DGS is reimagining the deli feast.
Exhibit A (pictured above) of why DGS Delicatessen (1317 Connecticut Ave., NW; 202-293-4400) isn't your typical deli: the Benedictberg, a neat twist on eggs Benedict. The yolky hollandaise dolloped atop two beautifully poached eggs? That's the taste of finesse. No trace whatsoever of being warmed over, no hint of gloppiness. You'll find that same care in nearly every dish—such as the cured and cold-smoked salmon platter or the shakshouka, that zesty Sephardic stew of tomatoes, onions, peppers, and poached eggs—but we don't want to mislead you into thinking DGS is some precious spot for the persnickety foodie. It's that rare three-fer on the brunch scene—fun, filling, and, at $27 for two courses and bottomless drinks, a fantastic value.
It's perfectly acceptable to have pizza for breakfast. . .
As long as you're eating the bacon-and-egg pie at Kensington's tinyFrankly . . . Pizza! (10417 Armory Ave., Kensington; 301-832-1065). The salty, smoky mess of house-cured bacon and Gruyére and Romano cheeses—plenty rich, thanks to runny quail eggs—is set on a puffy, oak-fired crust. If morning pizza doesn't sound appealing unless there's a massive hangover involved, just think of it as a breakfast sandwich in the round.
Fancy toast has made its way here—and it's actually really good.
One of last year's most divisive foodie fads in New York and San Francisco was what's known as artisanal toast—crusty bread adorned with farmers-market marmalades and local honeys, then hit with a $6 price tag. Some call it ridiculous, but we're down with the trend, at least as interpreted at the coffee shop/cocktail lounge Slipstream (1333 14th St., NW; 202-450-2216). Thick (but not unwieldy) slices of rustic pain levain are laden with brightly flavored toppings—avocado sheened with olive oil and set atop a cloud of goat cheese, or tangy apple butter with crunchy flakes of salt.
You can wake up Big Easy-style.
Our favorite time to drop by Bayou Bakery (1515 N. Courthouse Rd., Arlington; 703-243-2410)—chef and NOLA native David Guas's all-day bakery/cafe—is weekday mornings, when you'll find a generous-hearted antidote to many chains' bland, focus-grouped fare. A fluffy, buttery biscuit stuffed with strips of Benton's bacon or smoked ham. Good, locally ground grits. A cup of rich, dark gumbo. Of course, if it's a late breakfast, we can't resist the "muff-a-lotta," with salami, mortadella, provolone, and olive salad on a sesame roll. And no visit is complete without Guas's perfect pralines.
Even hardcore foodies can appreciate these chains.
To read so much food-world press, you'd think tasty, fresh food was the domain of the privileged. That's one reason we're so excited to see the success of Silver Diner (multiple Maryland and Virginia locations) andFirstWatch (multiple Maryland and Virginia locations), two chains working hard to disprove the notion that you need to drop lots of money at some trendy locavore bistro to eat wholesomely and well.
Silver Diner buys local eggs, breads, and meats—even local beers and wines. You can taste the literal fruits of that shopping in a neat twist on huevos rancheros, with two eggs over easy atop a hash of roasted Brussels sprouts, beets, and quinoa.
FirstWatch claims to source from local suppliers as well, and a recent breakfast at the Laurel outpost (14700 Baltimore Ave.; 301-498-3447) was marked by a level of freshness and detail we don't normally associate with a massive chain. It included two thick slices of multigrain bread topped with fresh smashed avocado, olive oil, and Maldon salt, with a couple of basted eggs on the side.
Latte-style tea isn't just for chai anymore.
During an excellent brunch at Woodberry Kitchen (2010 Clipper Park Rd., Baltimore; 410-464-8000), we learned not only of the pleasures of pig's-head hash but also discovered our new favorite pick-me-up: the Earl Grey latte, as fragrant with musky bergamot as it is rich with frothy steamed milk. If you can't get to Baltimore, you can request the drink at coffee shops like Peregrine Espresso (660 Pennsylvania Ave., SE, 202-629-4381; 1718 14th St., NW, 202-525-5127; 1309 Fifth St., NE, 202-543-5459) or even find it on the menu at Starbucks, where it's sweetened with vanilla syrup. Or just make one at home—spoon steamed milk into a cup of Earl Grey, then add a dash of vanilla and a teaspoon of honey.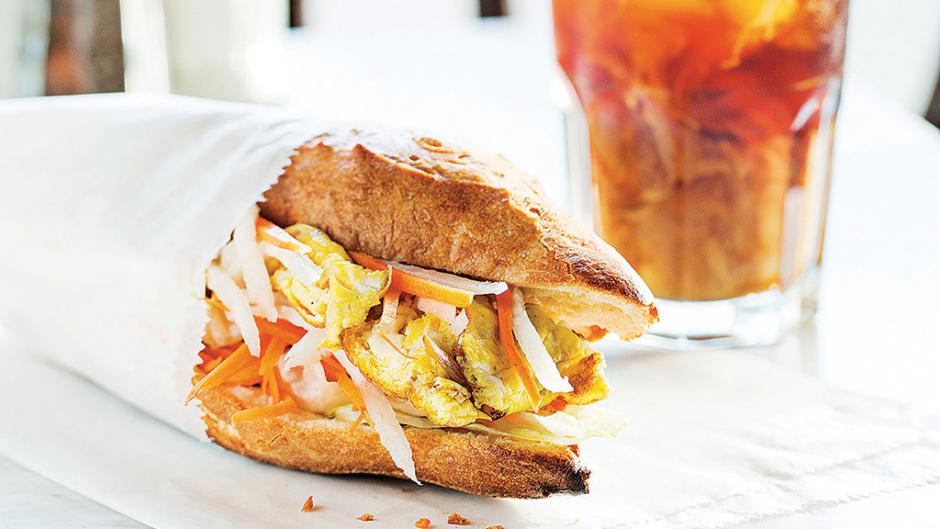 Breakfast sliders are a thing.
These shrunken morning sandwiches won't leave you feeling leaden:
At Bread Furst (4434 Connecticut Ave., NW; 202-765-1200), warm, miniature biscuits are swiped with house-made apple or peach butter, depending on season, and stacked with shaved ham and a slice of Swiss. Make it a meal or use it as an excuse to try more items at Mark Furstenberg's stellar bakery.
Weekdays call for a quick-grab option. We're fans of the petite brioche rolls topped with egg soufflé, sautéed mushrooms, and Swiss cheese from the British chain Pret A Manger (multiple DC locations). The few bites feel decadent but don't hinder morning momentum.
At Pretzel Bakery (340 15th St., SE; 202-450-6067), scrambled organic eggs, sharp cheddar, and a crisp strip of bacon are piled on a just-baked pretzel bun scattered with "everything" seasoning. The bakery also sells the rolls for at-home creations.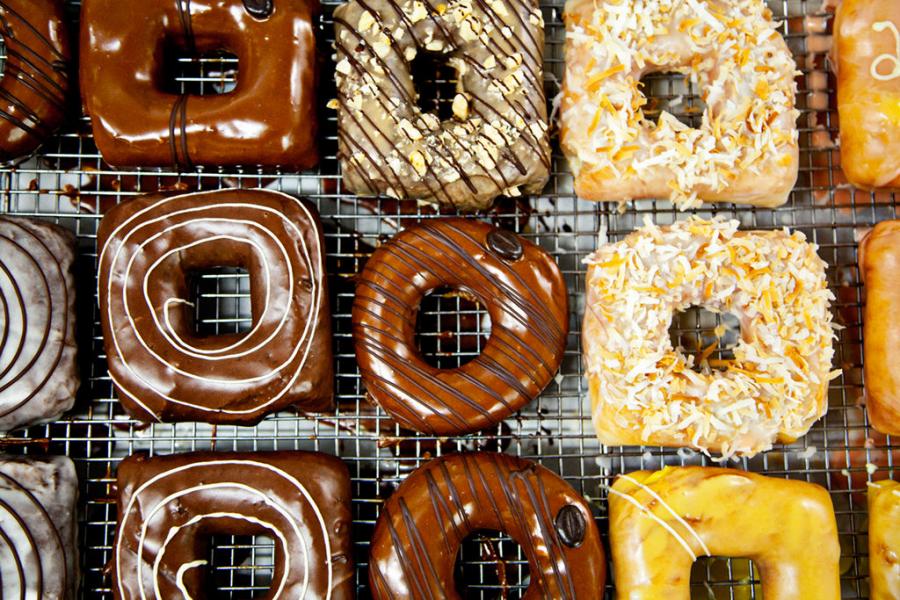 It's A-OK to start your day with dessert.
Spiffed-up doughnuts have long been a popular offering on dessert menus. Finally, the script is starting to flip, with traditional after-dinner sweets making their way onto the breakfast table. At Astro Doughnuts & Fried Chicken (1308 G St., NW; 202-809-5565), our favorite confection is the créme brûlée doughnut, piped with vanilla-bean-flecked custard and finished with a torched-to-order sugar crust. The best offering at District Doughnut (749 Eighth St., SE; 202-817-3166) takes its inspiration from a cannoli, trading a pastry shell for yeast dough and filling it with chocolate-chip ricotta. At the hot-dog shopBold Bite (4901-B Fair-mont Ave., Bethesda, 301-951-2653; Union Station, 202-682-2653), the coconut-topped Samoa doughnut is an homage to the chocolate-caramel Girl Scout cookie of the same name.
We love these not-so-basic egg sandwiches.
An Italian tigelle press creates crisp, English-muffin-like flatbreads for five kinds of breakfast sandwiches at Red Apron Butcher's Penn Quarter and Union Market locations (709 D St., NW, 202-524-5244; 1309 Fifth St., NE, 202-524-6809). Our favorite channels the Golden Arches with sausage, egg, American cheese, and a swipe of maple butter.
Riffs on Vietnamese bánh mì exist throughout the area, but the excellent version at Bread Furst (4434 Connecticut Ave., NW; 202-765-1200) is the first we've seen to start the day. Served at room temperature, the mushroom-studded omelet, pickled daikon, and splash of fish sauce make for a refreshing meal. Still, what elevates the sandwich is the bakery's baguette, which balances crunch, chew, and yeasty savor.
Sometimes you just want a straightforward bacon-egg-and cheese—and for that head to Best Buns Bread Company (4010 Campbell Ave., Arlington; 703-578-1500). The Shirlington bakery's Willing-No-Ham, served on thick-sliced white bread, is messy, greasy, and wonderful.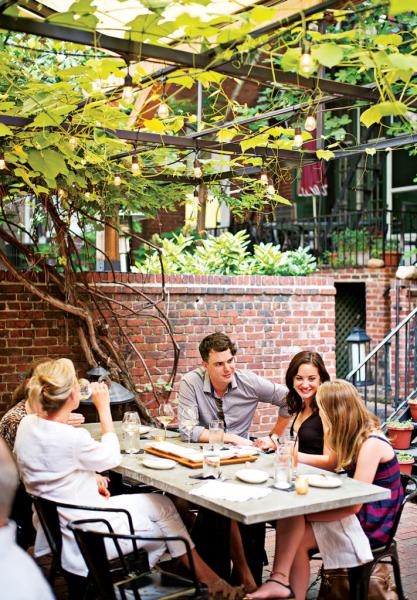 The most picturesque patios are best enjoyed early in the day.
Diners sip Greek wine under century-old wisteria vines in the Iron Gate's garden (1734 N St., NW; 202-524-5202), where Mediterranean-style brunch is served nearly year-round thanks to heat lamps and blankets.
More active brunch-goers love the plaza at the wine bar Vinoteca (1940 11th St., NW; 202-332-9463). The Italianate courtyard boasts a traditional oyster-shell bocce court, perfect for working off duck-confit Benedicts and bottomless mimosas.
A flagstone patio at the historic Old Angler's Inn (10801 MacArthur Blvd., Potomac; 301-365-2425) returns to life in spring, when the kitchen brings back brunch from winter hibernation. Guests gather around umbrella-topped tables for a $28 two-course menu, with classics such as pancakes or crabcakes.
Mornings are relaxed at Bloomingdale's Big Bear Cafe (1700 First St., NW; 202-643-9222), secluded from city traffic thanks to a lush garden of herbs and greenery. A young crowd gathers for quiche and house-cured lox, not to mention free wi-fi on weekdays.
A veranda at the Ashby Inn & Restaurant (692 Federal St., Paris, Va.; 540-592-3900) overlooks Hunt Country's rolling hills and the Blue Ridge Mountains. Chef David Dunlap's three-course menu puts a refined spin on comfort food, in the form of a croque madame with Virginia ham and eggs Benedict with local beef and creamy Choron sauce.
We can't get enough of this yogurt.
The grocery-store yogurt aisle is as varied as ever—there's plenty of the Greek and Icelandic stuff, sure, but also dessert-like Noosa (we love the coconut and strawberry-rhubarb) and, at Whole Foods, even butternut-squash—and beet-flavored cups from New York's Blue Hill restaurant. Still, the best we've found is at Society Fair (277 S. Washington St., Alexandria; 703-683-3247), the market run by Restaurant Eve proprietors Cathal and Meshelle Armstrong. It's made in-house, using whole milk from Pennsylvania's Trickling Springs dairy, and the result is just luscious and tart enough. Finishing it off: a handful of granola, studded with sunflower seeds, coconut, and cherries and tossed with maple syrup.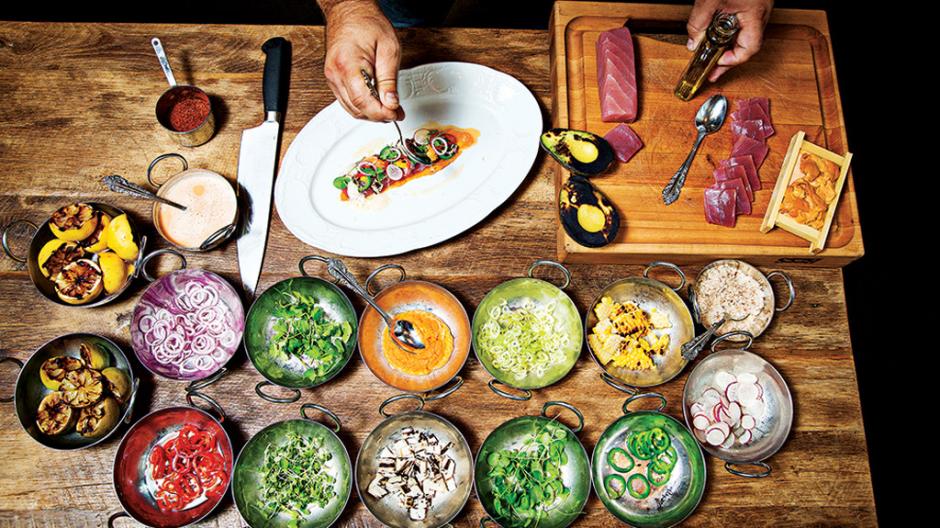 These chocolate-chip pancakes are still around for good reason.
Thankfully, some places never seem to change. McLean Family Restaurant (1321 Chain Bridge Rd., McLean; 703-356-9883) -"MFR" to regulars—has been run by the Kapetanakis clan for 46 years. Such a longstanding place calls for a steady order, and ours is the chocolate-chip pancakes. (Breakfast is served daily till 3.) The griddled rounds arrive two or three to a stack, crisp on the edges and cushiony inside, and pocketed with melted chocolate. The plate comes with sausage, ham, or bacon, but otherwise it's like eating cookies for breakfast—a treat at any age.
The bottomless brunch is all grown up.
We usually think of all-you-can-eat as something reserved for wing night at a fratty bar. And all-you-can-drink? That, too, is for the days of carrying around a fake ID. Not so at the plush Latin steakhouse Del Campo (777 I St., NW; 202-289-7377), where $45 buys you full run of the brunch menu-dishes and drinks—till you say stop. You'll want to start with an order of smoked-pineapple mimosas (better than the pisco-laced Bloody Marys), then dive into round after round of shareable plates. There are soufflé-like pancakes layered in a cast-iron skillet, runny eggs served with crab toast and caviar, and perhaps most memorably, the Wagyu skirt steak and eggs that recently won chef/owner Victor Albisu top honors on Beat Bobby Flay.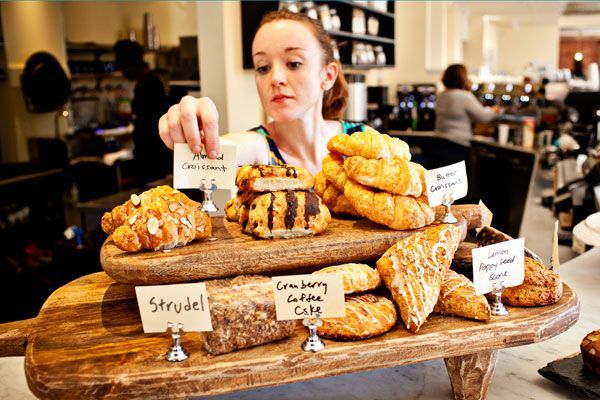 You can have your eggs Benedict at 11 am—or 11 pm.
Newer hipster haunts would envy the authentically old-school decor ofAmphora Restaurant (377 Maple Ave. W., Vienna; 703-938-7877), a prefab diner that was manufactured in New York and trucked to Vienna nearly 40 years ago. Beaded lamps light the pink leather booths 24-7, while servers in bow ties bring binder-thick menus that include 11 Benedicts and nearly as many pancakes. Don't expect culinary fireworks—who goes to a diner for those?—just satisfying plates of ham and eggs, or French toast made with brioche from a sister bakery.
Omelets roll out round the clock at the Diner in Adams Morgan (2453 18th St., NW; 202-232-8800), as busy after last call as it is during brunch. We prefer the quieter wee hours on weeknights, which draw nocturnal workers with free wi-fi and barkeeps for post-shift migas.
The Coupe (3415 11th St., NW; 202-290-3342), also from Diner owner Constantine Stavropoulos, is our place for more sophisticated morning-style eats—such as a béchamel-sauced sandwich with ham and a fried egg—served until 2:30 am Friday and Saturday night.
Heckman's Delicatessen & Bar (4914 Cordell Ave., Bethesda; 240-800-4879) brings late-night noshing to Bethesda, dishing out cherry blintz-es and peppery corned-beef hash until 4 am Friday and Saturday night.
We're in the midst of a carb revolution.
Finally, after nearly a decade of flour fear, a spate of bakeries is enticing diners to embrace the morning pastry. Here's where to indulge, muffin top be damned.
Batter Bowl Bakery (403 H St., NE; 202-675-2011). From the owners of the neighboring bistro Ethiopic comes this French-style bakeshop, which turns out lovely almond croissants, puffed pancakes, and chocolate twists.
Frenchie's Artisan Pastries & Desserts. Owner Erica Skolnik is still searching for a brick-and-mortar space, but she sells her gorgeous sweets—sugared pistachio morning buns, cheddar-and-ham croissants—at DC farmers markets and shops like Mount Pleasant's Each Peach Market (3068 Mount Pleasant St., NW; 202-525-1725) and Shaw's La Colombe Coffee (924 N St., NW; 202-289-4850).
LeoNora Gourmet Bakery (1108 N. Irving St., Arlington; 571-527-0445). This cubby-size baguette stop focuses on French confections but also whips up fabulous rosemary-flecked cheese scones every morning.
Rare Sweets (963 Palmer Alley, NW; 202-499-0077). Meredith Tomason, formerly pastry chef at New York's Craft, opened her CityCenterDC bakery last year, and the old-fashioned biscuits and English muffins are dreamy.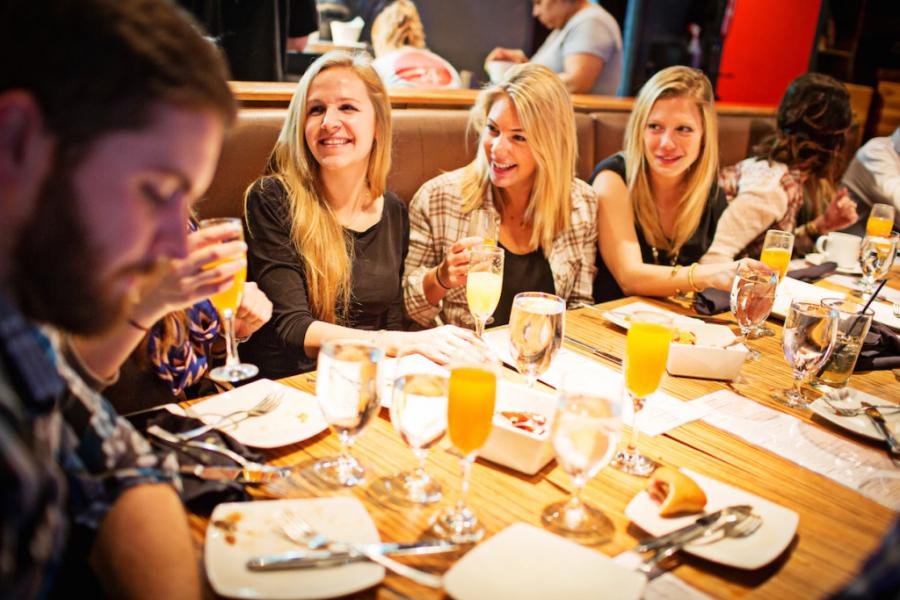 The daytime drinking kicks off early.
Unlimited Bellinis. Endless small plates. A boisterous crowd chowing down to beats from a deejay booth. The throbbing-party-as-brunch is now a staple here, thanks to restaurateur Richard Sandoval and his seven District eateries, which include Masa 14 (1825 14th St., NW; 202-328-1414), El Centro D.F. (1819 14th St., NW, 202-328-3131; 1218 Wisconsin Ave., NW, 202-333-4100), and Toro Toro (1300 I St., NW; 202-682-9500).
At the Latin/Asian fusion place Masa 14—which began its late-morning bash in 2009—the staff pours 288 bottles of bubbly for a crowd of 700 on any given weekend and folks camp out for hours. The draw isn't necessarily the food but a there-goes-the-afternoon hedonism fueled by free-flowing mimosas, breakfast tacos, and bacon-fried rice ($39 buys limitless small plates and cocktails). A Sunday "aftermath" dance party overtakes the rooftop until 7 for anyone left standing.
It's a chance to travel back in time.
You can go to the original Woodside Deli (9329 Georgia Ave., Silver Spring; 301-589-7055) for the sablefish platter or a three-egg omelet, maybe washed down with an old-fashioned milkshake. But that's not why we go. We go for the texture—specifically, to sit in the matchless back room, its paneled walls chockablock with black-and-white framed pics of celebs, sports heroes, and vintage magazine covers, including, most memorably, the Vargas girls from the old Esquire (ah, the now-quaint sexiness of a pre-porn-soaked age!). Here it is, the organic character every hipster haunt seeks (and rarely finds), in gloriously undiluted, politically incorrect form.
This article appears in our March 2015 issue of Washingtonian.