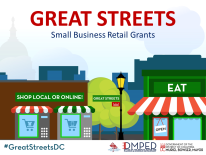 The Great Streets Retail Small Business Grant provides existing and new businesses the opportunity to help transform 13 emerging commercial corridors into thriving and inviting livable, walkable, and shoppable neighborhood centers. This opportunity is geared towards brick-and-mortar businesses located in a Great Streets Corridor.
Basic Requirements:
Have a business that is located within or along the border of a Great Street corridor
Be in Good Standing with the Department of Licensing and Consumer Protection (DLCP), the DC Office of Tax and Revenue (OTR), the DC Department of Employment Services (DOES), and the federal Internal Revenue Service (IRS).
Have an active Basic Business License
Evidence of site control
Possess proof of property and liability insurance
Understand the scope of the proposed project (including timeline, costs, project management, and potential impact to the business, corridor, and community
Have financial records readily available
Must have a project budget and financial projections
How much does the grant award?
Awards will range up to $80,000.
What can the grant money be used for?
Storefront renovations, equipment purchases and technology enhancements to support e-commerce.
Are you located in one of the Great Streets Corridors?
Insert your business address in the interactive mapping tool to verify.

Request for Application (RFA) - Click here to view
Release Date: January 23, 2023 at 5:00 pm ET
Closed: February 24, 2023 at 5:00 pm ET
To see if you are Great Streets Ready, please click here.
For all other questions, email [email protected].